Diversity, Equity, Inclusion, & Belonging
Your financial Partners for life.
At Partners, we are committed to creating a sense of belonging and inclusivity for our Members, cast members, and families. Having Diversity as the foundation of our core values drives our dedication to providing products and services that are practical and impactful for our Members.
We partner with the Business Employee Resource Groups (BERGs) throughout The Walt Disney Company as they champion change by ways of amplifying underrepresented voices as we work together to reimagine tomorrow.
---
Family Building Loan
Grow your family with a Partners Family Building Loan for access to cash for upcoming expenses. Whether you're beginning your family building journey, or need assistance with childcare costs, an unsecured Partners Family Planning Loan could be a smart financing alternative to high-interest rate credit cards, with a fixed rate lower than most credit cards and manageable monthly payments.
Loans from $500 – $50,000
No collateral required
Fixed rate and monthly payments
No annual fees or pre-payment penalty

Select 'Family Building' when applying for a personal loan online. Questions? Schedule an appointment with a Partners Representative today.
Equal Opportunity Employer
We believe that it is our people that fuel the Partners Federal Credit Union's Mission and Vision. We enable our success by attracting, recruiting, developing, and retaining the best: cast members who live the Core Values and are driven by, and stand up for, the dreams of our Members, who bring diversity of thought and experience to cultivate and nourish our organization, and who are eager to share, grow, learn, and thrive as leaders at all levels, today and tomorrow.
*APR = Annual Percentage Rate. Your APR will be based on your individual qualifications and creditworthiness. Some restrictions may apply. Rates are subject to change. Membership is required to apply and is open to any cast member/employee of The Walt Disney Company or one of its subsidiaries, a retiree of The Walt Disney Company or one of its subsidiaries, an immediate family member or roommate of one of the aforementioned. A one-time $5 Membership fee may apply. ©2023 Partners
1New Pride Ally Collection card is available via mail delivery only. A $5 card replacement fee may be applicable.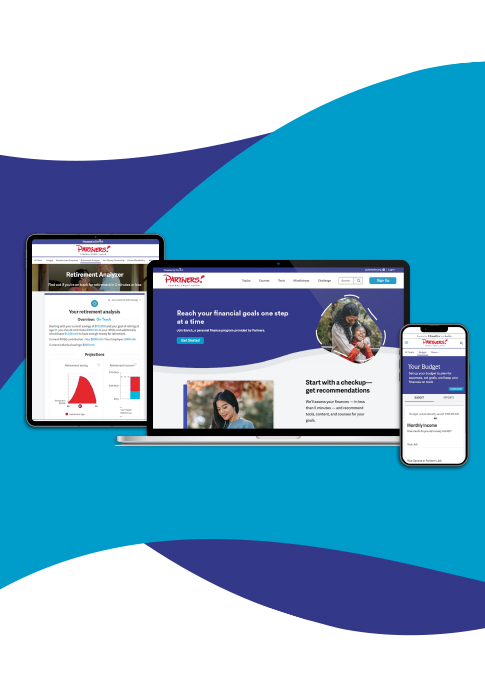 Partners Wellbeing
Sign up
for a free Partners Wellbeing account to access resources to help answer your financial questions. Partners Membership not required.
Available in English, Spanish, French, and Haitian Creole
An innovative and engaging source for financial education
Dynamic and interactive tools, courses, and articles
Get a free analysis of your money personality