Make sense out of your dollars.
Partners is committed to helping our Members live better lives through financial education. By becoming more informed about their options, we can empower Members of all backgrounds to make better financial decisions, leading to long-term financial prosperity and health. Our team of financial educators facilitate in-person and virtual workshops on a wide variety of topics ranging from Budgeting Essentials, Credit 101, First-Time Home Buyer, Saving for Retirement, and more. Register for a free live webinar below.
Financial Management - September 26
Tuesday, September 26 at 12PM PST / 3PM ET
Join us for this session as we  show you how to develop a sound financial strategy – one that covers all the financial bases, from insurance to investing to long-term care planning.
Fundamentos Para Hacer un Presupuesto- Septiembre 27
Miercoles, Septiembre 27 a las 5PM PST / 8PM ET
Tomar el control de sus finanzas puede ser un desafío, si no cuenta con el plan adecuado. Ya sea que esté desarrollando un plan de gastos, aprendiendo a presupuestar en torno a los ingresos variables o simplemente estableciendo metas para el futuro, este taller le brindará las herramientas que necesita para desarrollar su propia estrategia y emprender el camino hacia el éxito financiero.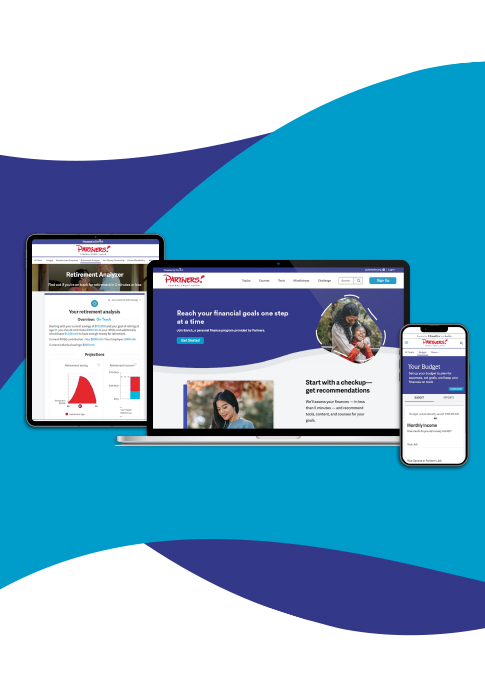 Partners Wellbeing
Sign up
for a free Partners Wellbeing account to access resources to help answer your financial questions. Partners Membership not required.
Available in English, Spanish, French, and Creole
An innovative and engaging source for financial education
Dynamic and interactive tools, courses, and articles
Get a free analysis of your money personality