2022 Annual Scholarship Recipients
As part of a very special tradition here at Partners, we are thrilled to announce our 2022 Annual Scholarship recipients!
Each year, we open the Annual Scholarship application process to Partners Members who are pursuing a postsecondary education. Recipients are selected based on scholastic achievement, community involvement, school or work-related activities, and the content of an original written essay.
This year, we asked each applicant to write about a curveball that they've met head-on. We received close to 300 impressive entries, and we've been inspired by the tremendous strength, courage, and growth conveyed by these students.
Rising to the top were Ahd Z., Bailey H., and Anesu M., who received awards for their educational pursuits at the University of Houston, Florida State University, and the University of Notre Dame, respectively. A total of $30,000 was awarded.
Ahd Z.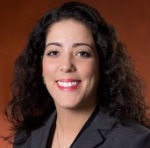 Ahd Z., who is attending the University of Houston in pursuit of her master's degree in finance, shared with us her plans to become a financial advisor. "I was born and raised in Morocco," Ahd shared. "Back there, I noticed that there were those that made a little money but knew how to save and invest, and those who made much more money but didn't know how to manage it and ended up in financial/family crisis. I want to help people make better financial decisions."
Bailey H.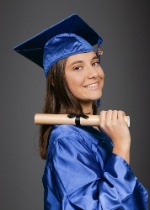 Bailey H. is attending Florida State University beginning this fall, where she will study Pre-Food & Nutrition Science with dreams of becoming a registered dietitian. "I love sports, especially football, so being able to create meal plans for college football players or NFL players is a dream of mine. I've experienced and learned that food has a major impact on our physical and mental state. Being able to teach people what helps them feel better is what I live for," Bailey shared.
Bailey's curveball essay related her struggle with accepting that she was gay. "I learned that by accepting who I truly was, was the only way I could finally be happy. Once I did that, I started feeling more confident and proud to be who I was."
Bailey also shared her hope for the future and other young adults that are struggling to find and be their authentic selves. "As I open up to people and share my experience like I did with my scholarship application, I share a vulnerable part of my life," she said. "[Being] awarded such a prestigious scholarship for simply being myself, means that there's hope that other kids who are like me will be accepted the same way I am. That the future is going in a positive direction and acceptance is getting easier and easier."
Anesu M.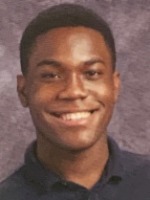 Anesu M. graduated as the valedictorian from Celebration High School in Celebration, FL, and plans to attend the University of Notre Dame to study Physics in Medicine. Anesu's father, who has been a Partners Member since 1999, encouraged him to apply for the scholarship.
"With this scholarship, I am now able to afford getting a college degree without going in debt," Anesu shared. "This would put me one step closer to achieving my dreams of becoming a radiation oncologist. I will forever be grateful of this generous opportunity."
Anesu immigrated from Zimbabwe in 2001 and in his essay, he shared the struggles that his family endured while seeking citizenship and facing potential deportation on two different occasions before winning their case. "This taught me how perseverance and determination are two key values in achieving your goals. Throughout my whole life, I have applied these values to everything that I did."
He considers himself both Zimbabwean and American and he incorporates and expresses both cultures through his love of soccer, science, and service. "In my classes, I was intrigued by how much overlap physics and biology had and how physics principles can be used to solve biological problems. Volunteering at my local hospital also allowed me to realize how I want to continue helping people in my community. Becoming a Radiation Oncologist would allow me to satisfy my curiosity for biology and physics while also satisfying my passion of helping people in my community."
Your financial Partners for life.
Each of these scholars demonstrates a dedication to education, service, and excellence that honors The Walt Disney Company heritage and traditions, as well as Partners' Core Values and commitment to making our Members' financial dreams come true.
"At Partners we are dedicated to serve our Members as their financial Partners for life, and help them achieve their dreams," said Ricky Otey, President and CEO of Partners Federal Credit Union. "Each of these scholars demonstrated great resolve in overcoming significant challenges to make their dreams come true, and we are excited to celebrate and support them in their journey."
The Partners Scholarship is an annual award exclusive to Partners Members who will be enrolled in an accredited 2- or 4-year degree program within the next calendar year*. Since the program's inception in 2000, over $300,000 in funds have been awarded to more than thirty-five (35) students.
---
*Eligibility for the scholarship program requires the Member to be at least 16 years of age and in good standing with Partners Federal Credit Union (Partners) or a dependent child (minimum 16 years old) of a Member in good standing with Partners. Partners will only award scholarships to individuals who qualify based upon the credit union's application criteria and the judgment of credit union officials.
Partners maintains the right to retain all funds until the recipient can provide verification of acceptance to an accredited 2- or 4-year college/university and enrollment in the Fall 2022 or Spring 2023 term. Partners employees, officials, and members of their immediate families are not eligible to participate.