Partners hosted its Florida Summer Car Sale on July 20-23rd at Universal Nissan Hyundai in Orlando, Florida. The car sale offered exceptional car deals and helped Members finance their dream cars. 
During this Partners Car Sale, Members were able to browse dealership inventory with Partners representatives on-site. This created a more personalized shopping experience as we were there to guide Members through their purchase, ensuring they were covered with our lower-cost insurance and protection offers, as well as securing an auto loan with us. Because they finalized their auto loan with Partners, Members could set up automatic payments to pay their loan directly from their existing accounts and contact us directly if they ever have questions!
Plus, we offered unique and exciting sweepstakes prizes and giveaways throughout our event. Members who used their prequalification to purchase their vehicle before the event got a little extra cash for doing so. And, if they applied for or finalized an auto loan, they were entered to win a $750 gift card to plan an amazing Disney experience.
The benefits don't end at discounts and giveaways; At the Florida Car Sale Partners Members experienced true value throughout the entire event. Members got the chance to enjoy savings up to 0.75% APR (Annual Percentage Rate) in additional loan discounts with Auto Pay, Relationship Rewards, and Alternative Fuel Vehicles. Even if they weren't already Members, car sale shoppers had the opportunity to become Members, explore vehicle options with knowledgeable representatives, secure convenient loan funding with Partners, and drive off with the keys to their brand-new cars. With remarkable car deals, Partners was able to help 40 members get their dream car at an unbeatable price!
Partners cast member Robert B. shared, "The best part was absolutely seeing Members walk out smiling and hitting the gong to celebrate their new car purchase."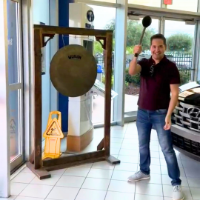 (Happy Member celebrating their new car financed through Partners) 
If you didn't have the opportunity to attend the event, Partners can still be your one-stop shop for your new vehicle. Our auto buying concierge service offers you the ability to find your dream car at a no-haggle price and connect you with financing through Partners. And, be on the lookout for future events in your area. All Members are welcome, and as always, Partners adds a little sprinkle of magic to your car buying experience.