2023 Annual Scholarship Recipients
As part of a very special tradition here at Partners, we are thrilled to announce our 2023 Annual Scholarship recipients!
Each year, we open the Annual Scholarship application process to Partners Members who are pursuing a postsecondary education. Recipients are selected based on scholastic achievement, community involvement, school or work-related activities, and the content of an original written essay.
This year, as Disney celebrates its 100th anniversary we asked each applicant to write about what sparks their intellectual curiosity and how do they want their legacy to be remembered in years to come. We received 565 impressive entries, and we've been inspired by the tremendous creativity, innovation, and vision conveyed by these students.
Rising to the top were Neha V., Emma D., and Taylor B., who received awards for their educational pursuits at the University of Southern California, Columbia University, and Forham University, respectively. A total of $30,000 was awarded.
Neha V.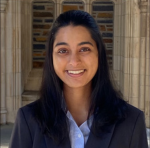 Neha V., graduated from Duke University in 2022 with a major in Neuroscience, and minors in Hindi and Chemistry with plans to attend the Keck School of Medicine at USC to fulfill her dream of becoming a physician. Neha shared that she hopes her legacy involves "resolving healthcare inequity while conducting high-impact neuroscience research, so that all individuals, regardless of their socioeconomic status or race/ethnicity, can access research driven innovation and better health outcomes."


Emma D.
Emma D. is a master's student in Sociocultural Anthropology at Columbia University.  Emma is also a volunteer English teacher, social services case manager for immigrants and refugees, and reading mentor for kids. Her work and field of study inform her primary goal which is to "assist those who have been forcibly displaced to rebuild their lives. The future I see is one in which separated children are reunited with their families, all people have access to quality education, and the diverse goals of those who have been dispossessed are not out of reach."
Taylor B.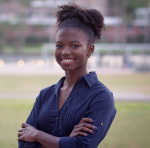 Taylor B. is a graduating senior at Fordham University. Her majors are International Studies and Psychology, and she is currently pursuing a master's degree in Ethics and Society at Fordham University. "I have had a passion for social justice since I was young and hope to pursue a career in the legal field helping others. My desire for racial justice and the knowledge I have obtained so far in my educational career has inspired me to begin studying for the LSAT this summer and hopefully attend law school after completing my master's degree next year." 


Meet Our Scholarship Winners 


Your financial Partners for life.
Each of these scholars demonstrates a dedication to education, service, and excellence that honors The Walt Disney Company heritage and traditions, as well as Partners' Core Values and commitment to making our Members' financial dreams come true.
"At Partners we are dedicated to serve our Members as their financial Partners for life, and help them achieve their dreams," said Ricky Otey, President and CEO of Partners Federal Credit Union. "Each of these scholars demonstrated great resolve in overcoming significant challenges to make their dreams come true, and we are excited to celebrate and support them in their journey."
The Partners Scholarship is an annual award exclusive to Partners Members who will be enrolled in an accredited 2- or 4-year degree program within the next calendar year*. Since the program's inception in 2000, over $300,000 in funds have been awarded to nearly forty (40) students.
---
*Eligibility for the scholarship program requires the Member to be at least 16 years of age and in good standing with Partners Federal Credit Union (Partners) or a dependent child (minimum 16 years old) of a Member in good standing with Partners. Partners will only award scholarships to individuals who qualify based upon the credit union's application criteria and the judgment of credit union officials.
Partners maintains the right to retain all funds until the recipient can provide verification of acceptance to an accredited 2- or 4-year college/university and enrollment in the Fall 2023 or Spring 2024 term. Partners employees, officials, and members of their immediate families are not eligible to participate.